Paddle Through Protected Waters and Around Rockwell Lighthouse
Here's to all novice kayakers! If you haven't kayaked before or consider yourself at beginners level, this tour is for you (though kayakers of ALL levels are welcome)! This easy kayak tour has us paddling through Sitka's pristine and tranquil waters, with plenty of opportunities to spot the beautiful Alaskan wildlife of the area.
On this peaceful 3.5-mile paddling experience, we'll visit one of Sitka's historic landmarks, Rockwell Lighthouse, situated on a rocky outcrop that can only be accessed by water. Kayaking to the Rockwell Lighthouse is an unforgettable adventure that combines outdoor exploration with a glimpse into the rich maritime history of the region.
Our certified and experienced instructor is a Sitka local, and he's passionate about kayaking and telling fun stories along the way. Most importantly, he'll ensure your safety during the trip with a paddle & safety introduction.
Kayaking in Sitka is a rewarding experience that will allow you to discover and observe Alaska's nature from a whole new perspective. Paddling along the tranquil waters, you'll observe stunning views and spot an array of animals living their best lives in the wilderness.
You'll get a taste of Sitka's history on this easy-going tour as you'll explore the iconic Rockwell Lighthouse that is only accessible by water, so what better way to get there than by kayak!
Click the Tabs to See More Information
---
---
Departure time
9am or 2pm
*Semi-flexible: start times can be adjusted to accommodate cruise ship arrival times
---
Meeting point
Harrington Centennial Hall 330 Harbor Dr, Sitka, AK 99835
---
Availability
May 15th – August 31, Monday – Friday
*For weekend bookings please call 817-291-9323
---
Duration
3 hours (approx. 2 hours in water and 1 hour transition time).
---
---
Included
– Pick-up and drop-off at Harrigan Centennial
– Kayak, paddle, spray deck, PFD, signaling whistle, flashlight and/or headlamp
– Water bottles and snacks
---
Not included
– Rain gear
– Gratuity for guides
---
What to bring
– Do bring rain gear as it frequently rains here
– Do bring extra layers as it is often cooler on the water
---
Participation requirements
The minimum age requirement for this tour is 10 years old
---
About your guide
ACA-certified kayak instructor
What You'll Do On This Tour
Before setting off on this easy kayaking adventure, you'll receive a paddle and safety introduction to ensure you have a safe, comfortable, and enjoyable trip. We'll then launch the kayaks from The University of Alaska Southeast and be on our way to the Rockwell Lighthouse. We'll paddle through the protected waters of the Galankin Islands, where you'll have the opportunity to spot diverse wildlife, including sea otters, seals, sea lions, salmon, and eagles.
We'll kayak through the Galankin Islands, where you'll be immersed in the stunning natural beauty of the Alaskan coastline. The islands offer a range of paddling opportunities, from calm and sheltered bays to more exposed stretches of water. You'll be awestruck by breathtaking scenery that includes rocky shorelines, and lush forests, all of which provide a stunning backdrop to our kayak adventure.
Arriving at the Rockwell Lighthouse, you'll be struck by its dramatic location on a rocky outcrop. Your guide will share stories about the rich history and culture of the region, including the Rockwell Lighthouse's significance, leaving you with a greater appreciation and understanding of the area's unique heritage.
Check Out The Route Map Below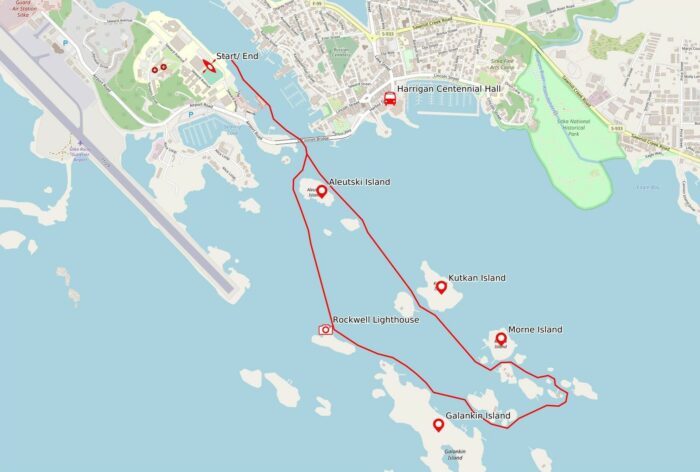 This tour is suitable for beginners with little to no previous kayaking experience.
For groups larger than 6 people, please contact us at least one month in advance to make arrangements. We can accommodate up to 12 participants, but require a co-guide to be on the trip with us.
We embrace cold and rainy weather on all our tours, so please be sure to bring appropriate clothing, including extra layers and footwear to have a comfortable and enjoyable trip.
---
WWII Bunker Paddle & Exploration
Island Hopping Kayak Tour