Discover the Hidden Beauty of Sitka's Chaichei Islands
Set off on a remarkable journey to explore the hidden gems of Sitka's Chaichei Islands as you embark on our unique island-hopping kayak tour. Paddle through the pristine waters, and discover the stunning natural beauty of the region as you hop from one island to another.
Our experienced guide will take you on a route that includes multiple islands, each with its own unique charm and natural beauty, to explore secluded coves and beaches that are inaccessible by foot. You'll have the chance to explore secluded coves and bays, taking in the scenic views of the surrounding coastline. You might even catch a glimpse of some of the region's wildlife, such as sea otters, eagles, and even whales.
You'll be comfortable in the hands of your experienced and certified tour guide, who will begin your kayak trip with a paddle and safety introduction to ensure your safety and enjoyment throughout the tour!
Observe the diverse wildlife that Sitka's islands have to offer. You can spot everything from sea otters to sea lions and eagles, and possibly even a whale.
Take in magnificent views of Alaska's stunning coastline and the unique charm and beauty of the Chaichei Islands.
Click the Tabs to See More Information
---
---
Departure time
9am
*Semi-flexible: start times can be adjusted to accommodate cruise ship arrival times
---
Meeting point
Harrington Centennial Hall 330 Harbor Dr, Sitka, AK 99835
---
Availability
May 15th – August 31, Monday – Friday
*For weekend bookings please call 817-291-9323
---
Duration
5 to 6 hours (approx. 3 hours on water, 1 hour for lunch and 1 hour transition time)
---
---
Included
– Pick-up and drop-off at Harrigan Centennial
– Kayak, paddle, spray deck, PFD, signaling whistle
– Water bottles and snacks
---
Not included
– Rain gear
– Gratuity for guides
---
What to bring
– Do bring rain gear as it frequently rains here
– Do bring extra layers as it is often cooler on the water
---
Participation requirements
The minimum age requirement for this tour is 10 years old
---
About your guide
ACA-certified kayak instructor
What You'll Do On This Tour
Before launching our kayaks at Magic Beach, our experienced guide will provide instruction on kayaking techniques and safety procedures, ensuring that you have a safe and enjoyable experience.
We'll start the journey by kayaking to arrive at the Chaichei Islands, where you'll have the opportunity to explore some beaches on foot. In addition to the area's natural beauty, you'll be able to spot abundant wildlife, including sea otters, seals, and maybe even a humpback whale, and rock hop over some tide pools and discover a massive eagle's nest.
In addition to observing wildlife, we'll build a cozy campfire to heat up some hotdogs, and share some down time with the group before we continue exploring the Chaichei Islands. There is an unbeatable view of Mt. Edgecumbe, Sitka's famous volcano, that you won't want to miss! Be sure to ask your guide about it, he'll have some funny stories to tell!
Check Out The Route Map Below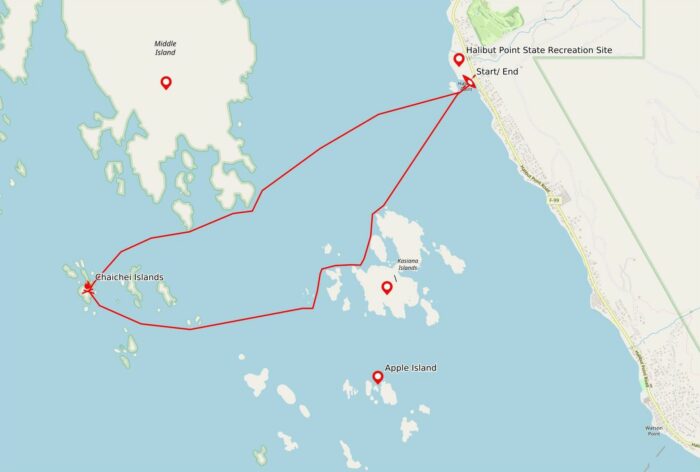 This tour is intermediate level but individuals with no previous kayaking experience may participate as long as they fit the Essential Eligibility Criteria.
For groups larger than 6 people, please contact us at least one month in advance to make arrangements. We can accommodate up to 12 participants, but require a co-guide to be on the trip with us.
We embrace cold and rainy weather on all our tours, so please be sure to bring appropriate clothing, including extra layers and footwear to have a comfortable and enjoyable trip.
---
Rockwell Lighthouse Paddle
WWII Bunker Paddle & Exploration