A Scenic Kayaking Experience and Insight Into Iconic History
Join us on an unforgettable Sitka kayak tour that will take you on a journey back in time to explore the remnants of World War II bunkers. Paddle through Sitka's serene waters, pass through tranquil coves and scenic bays to arrive at the historic location. You will be awed by the sight of the towering concrete bunkers, a fascinating reminder of the war's impact on Alaska's history.
Our Sitka kayaking tour to the WW2 bunkers is perfect for history buffs, nature lovers, and anyone seeking a unique and educational experience in one of Alaska's most picturesque settings. This kayak adventure is beginner friendly, so even if you haven't kayaked before, you'll fit right in! All tours begin with a paddle and safety introduction by your certified and knowledgeable guide to ensure your trip is safe and enjoyable!
You'll be in good hands with our certified and experienced instructor who is a Sitka local and passionate about its unique history. You'll learn all about this Southeastern region's hidden gems while you paddle along Alaska's stunning coastline against the striking natural backdrop and explore the WWII bunkers and the original naval air station.
This tour is beginner-friendly and ideal for those new to kayaking, as you'll be paddling on calm waters.
Kayaking in Sitka is a rewarding experience that will allow you to discover and observe Alaska's nature from a whole new perspective. Paddling along the tranquil waters, you'll observe stunning views and spot an array of animals living their best lives in the wilderness.
Click the Tabs to See More Information
---
---
Departure time
9am or 2pm
*Semi-flexible: start times can be adjusted to accommodate cruise ship arrival times
---
Meeting point
Harrington Centennial Hall 330 Harbor Dr, Sitka, AK 99835
---
Availability
May 15th – August 31, Monday – Friday
*For weekend bookings please call 817-291-9323
---
Duration
3 hours (approx. 2 hours in water and 1 hour transition time).
---
---
Included
– Pick-up and drop-off at Harrigan Centennial
– Kayak, paddle, spray deck, PFD, signaling whistle, flashlight and/or headlamp
– Water bottles and snacks
---
Not included
– Rain gear
– Gratuity for guides
---
What to bring
– Do bring rain gear as it frequently rains here
– Do bring extra layers as it is often cooler on the water
---
Participation requirements
The minimum age requirement for this tour is 10 years old
---
About your guide
ACA-certified kayak instructor
What You'll Do On This Tour
The tour will commence with a paddle and safety briefing before we launch the kayaks at the original naval air station, where we'll see the aircraft hangers used during WWII. At this early stage of our kayak adventure, you'll have a privileged view of snow-capped mountains, and rocky cliffs from the water.
We will paddle up to Fort Rousseau Causeway State Historic Park and hike to up to 10 bunkers, where you'll be able to explore the interior of some of the bunker complexes and the concrete structures that were built to defend Alaska's coast from potential attacks. You'll get a glimpse into the lives of the soldiers who were stationed at the bunkers during WWII.
Alongside exploring the bunkers, you'll be able to appreciate the abundant plant life that surrounds them while also observing wildlife such as sea otters, harbor seals, eagles and other marine life that inhabit the area. You can also collect colorful sea glass from the beach, and treat yourself with salmon berries and huckleberries from the lush green forest. We'll continue on to explore the U.S. Army Headquarters on Makhnati Island, where you'll learn more about the impact that WWII has on Alaska's history.
Check Out The Route Map Below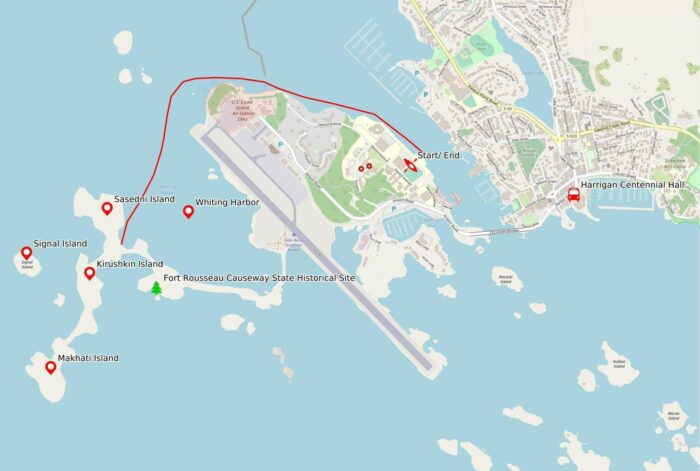 This tour is suitable for beginners with little to no previous kayaking experience.
For groups larger than 6 people, please contact us at least one month in advance to make arrangements. We can accommodate up to 12 participants, but require a co-guide to be on the trip with us.
We embrace cold and rainy weather on all our tours, so please be sure to bring appropriate clothing, including extra layers and footwear to have a comfortable and enjoyable trip.
There are inherent hazards exploring old bunkers that are not maintained, such as broken steps, rusty angled metals and washed out walk-ways. We will be taking it slow to ensure safety while exploring.
Depending on the time of high/low tide, we may have the opportunity to hike out to a larger bunker on Makhnati Island. Tide is important here as part of the trail is submerged in the ocean at higher tides.
---
Rockwell Lighthouse Paddle